Evening everyone!
One of my favorite hobbies is searching flea markets (or dirt malls depending on where you hail from) and thrift markets for retro gaming items in the hopes of giving them a better home and much needed playing. I've decided to start making record of these adventures, good and bad, as well as information on better deals in my area for other collectors.
This weekend I set out to find a replacement Sega Genesis to fill the gap left by the passing of the original from my childhood. I set out with my brother (
@Yoshieggpic
on Twitter) to the Tri-Cities Flea Markets outside of Johnson City TN. I'm sorry I don't have any pictures from the trip itself, only the stuff I actually came home with.
The first booth we stopped at had a model 1 Genesis with Altered beast in the box with all original accessories, inserts and game. The condition was pretty spectacular but the asking price of $120 was a little steep for me and I was looking for one to play instead of display in a collection anyway.
The next booth had a model 2 Genesis in box with inserts and all accessories. It was supposed to include Vector Man and the box was pretty beat up so he was only asking for $25 for it. I got it out of the box to inspect and everything was in fantastic condition. No scuffs or anything on the console itself and the controller and cords felt like they had never been touched. Needless to say I was pretty excited, but unfortunately when I opened the cartridge slot it appeared that something had smashed one of the connectors down. He seemed just as let down as I was as I think he had accepted it as a trade earlier.
The broken connector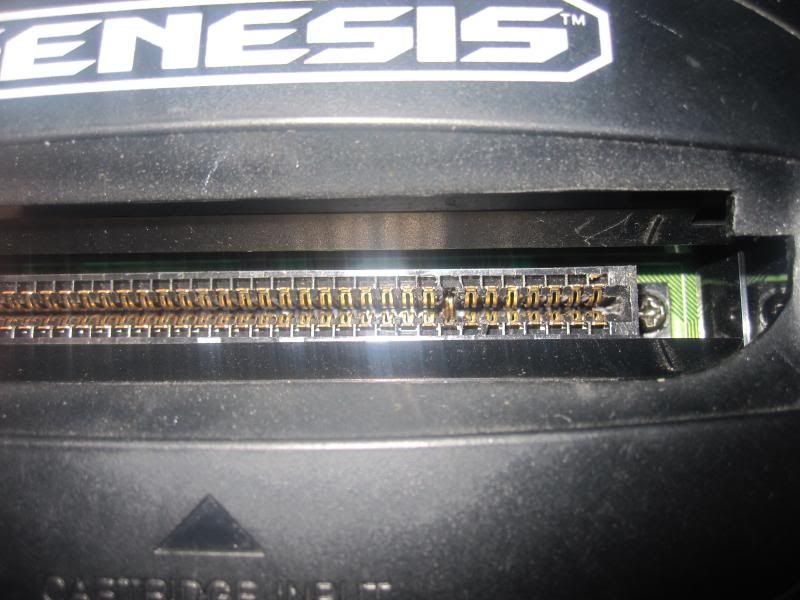 This controller is in amazing condition
The next booth had a Genesis model 2 on display with no cords or accessories. It appeared to be in pretty good shape and the connectors looked great in this one. The seller said that it worked but he didn't have any of the cords for it, but since it was a risk on my part he was only asking $5 for it, along with a free controller, so I decided to give it a shot.
I went back to the other booth and asked if he would be willing to part with the box and cords of the other console and lucky enough he was for $10 and even included the broken console to see if I could do anything with it.
Score! Mission accomplished and I was only in $15 dollars. I prefer the original model Genesis, but I think the model 2 still looks cool too. I didn't see any games I needed anywhere so we cut the trip short after that.
Back at home, as expected, the console with the broken connector powers on but will not play anything. I may be able to bend it back with the right tool but I'm keeping it to the side for now. The other console works like a charm and I've been happily enjoying my Genesis collection since I got home.
The working console, still in pretty good shape
All the spoils from this trip
It was a great trip and I can't wait to visit again. Maybe I'll see what kinds of Master System stuff I can find next time.
Thanks for reading!